baby it's you ♥ ;
-Follow ! Ask for [Follow Back]
-Taken ; Est.4.25.∞. ♥*
-My blog is basically everything inside my mind.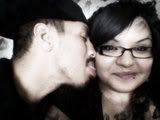 *-Find that person that you can act silly with, the person that once you tell him your flaws they become his own flaws, the person you can stay up with all night to here his voice, the person you will never get tiered of seeing, the person that doesn't bring up there ex but loves to get yours mad ! haha yea that's him ♥
-Raymond.♥
This post is posted on Monday 24 September 2012.
Currently has 63,989 notes

63,989 notes   -  
beshaa-vampire reblogged this from nos0ul-f1lledwif-dreams and added:

Now….now… this is the real babysitter..